Jamie Coates talks about the home buying process for First Time Buyers: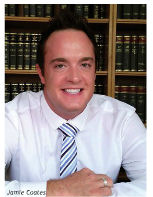 No matter how long I stay in this job I do not think the thrill of telling first-time buyers that they have completed their purchase and are now homeowners will ever get old.  I've had people scream in excitement, go silent with shock (yes, you do have to be a grown-up now) and cry with happiness, and each time I hear the emotion and excitement in a client's voice it makes me smile, no matter what kind of day I am having.
The most common words I hear from first-time buyers are this: "Sorry, I know it is probably obvious but can I ask…..". No client, whether you are a first-time buyer or are buying your 100th property, ever has to apologise for asking a question. If I could give one key piece of advice to first-time buyers (actually all buyers and sellers), it is this: no question is stupid and you do not have to apologise for asking your solicitor something, it is what we're here for. The key part of this job, in my opinion, is to ensure that you understand exactly what you are buying and what that entails for the future as a homeowner.  I would have failed in my role if a client had questions about the property or process and did not feel they could ask me about it.  If everyone knew all there was to know about the conveyancing process and property law then there would be no need for us, and I like this job!
One of the more frustrating aspects of this role is seeing first-time buyers instructing the cheapest conveyancing firm they can find.  Everyone is aware that buying a property is expensive, however, the one place you should not be trying to save a couple of hundred pounds is with your choice of solicitor/conveyancer.  Buying a property is one of the most stressful, expensive and complicated things you will ever do and therefore you need to invest your money in a firm that you can trust is going to ensure that the process is as smooth as possible.  I will deal with my clients from the very first call for a quote right through to the end of the transaction and it is crucial that buyers have a one-on-one relationship with their solicitor who they can get to know and trust and feel they can ask any question (no matter how trivial it seems). Building a relationship with a client is one of my favourite aspects of this job, my duty is not only to ensure all the legal aspects of the transaction are correct but it is to make sure that the buying process doesn't drive you to distraction.  I have had friends instruct firms based on a low price and they have found that everything is dealt with online and every time they try to speak with someone they are passed to a different person. This is not conducive to the conveyancing process.  You need to know that when you call or email you are going to get a response from me and not a stranger who you have not dealt with before.  In a world where we spend our lives glued to technology, you need to know that you can pick up the phone and speak to a real person who is going to help.
A few key things to remember when buying a house are:
View as many properties as possible and do not rush – if a property does not feel right then it is probably not for you.
Expect the unexpected – it is likely that something may come up in either the survey or the legal documents that you were not expecting such as the length of the lease term or the condition of the building.
Sometimes the buying process does not go to plan – it may take longer than expected or there may be a defect in the legal paperwork however, a good solicitor will ensure that the process goes as smoothly as possible.
Ensure you understand the difference between a leasehold property and freehold property and the obligations that come with buying each. If you are unsure – ask your solicitor.
Explore your different finance options whether it be through a Help to Buy ISA or Help to Buy Equity Mortgage.
Be aware that the first time buyer's stamp duty exemptions do not apply if the property is above £500,000.00 in London.
Make sure you have a survey carried out for your own peace of mind.
Negotiate on price.
Explore the different types of mortgages.
Remember there are loads of different costs when buying a property therefore ensure you budget correctly.
Start thinking about your credit score now to ensure you get the best mortgage offer you can.
It is an emotional process but it will be worth it when you get the call to say you are now the legal owner!