I always think that moving house is rather like giving birth-months of waiting and then the big day being the birth or in the case of a house, the exchange of contracts. Reaching this point is all consuming and it is only after it has happened that you are left literally holding the baby and no one warned you what would happen next (or if they did you chose to ignore it)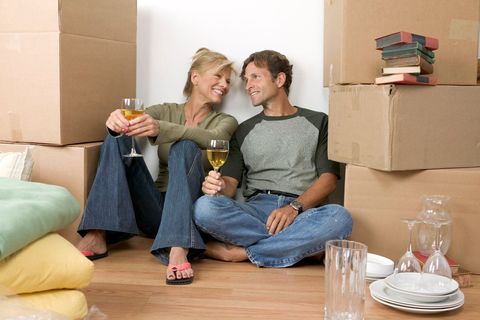 In the pre computer age it was usual to have one month between exchange and completion in order to have time to arrange changeover of utilities and order mortgage funds -and get over the shock of having actually exchanged and the realisation that you are really moving. Nowadays you pick up a phone or go on line to register with utility companies, council tax and water rates, and lenders only need one week to release funds. So suddenly completion can be upon you rather quickly and a week or two between exchange and completion is not uncommon, if all parties agree and a remover can be found.
A seller's obligation is to leave the house with vacant possession and this means clear of all rubbish and personal possessions in the loft, shed and garage and preferably clean . People always have different ideas about what "clean" is -when my neighbours moved in they found last week's supper still in the oven! Ideally you should aim to be out between 12-1pm and clients are always worried about how to achieve this when they are buying and selling on the same day. In practice if you use a good removal firm they drive the order of the day as if they do not have you out by 1pm they will not get away at the other end before 6pm which is when they want to finish (and if they can't then you may find yourself with an overtime bill).
If you are a seller doing your own removals do beware if you are doing it in shifts as you may well find the buyer coming in the front door while you are going out of the back. Legal completion takes place when the monies are received into the bank of the selling solicitor and if you do not give vacant possession by the contractual time (usually between 1-2pm) then you may well find yourself paying your buyer's removers overtime and losing all the costs you hoped to save by not using a remover yourself.
It is not unknown for sellers who feel they have been beaten down on price, to recoup their loss by charging extra for things such as fitted carpets. Do not fall into the trap of saying in the fixtures and fittings form that the fitted carpets are excluded and are available for sale, if you don't in fact intend to remove them. Buyers do not want to pay extra for something they think should be included in the price so may decline to buy them. One seller found themselves with a large bill when the buyer's carpet layers arrived on the morning of completion and all the old carpets had to be taken up before the new ones could be laid.
Another completion complication that seems to be on the increase is to do with fish-quite a lot of people have carp in their garden ponds and buyers do not always want them. The seller often cannot take them until they have made the new home ready so it is always a good idea right at the beginning to establish that the buyers will either keep them or at least look after them until the seller is ready to receive them.
A bit of forward planning and realistic expectations always helps-and when the day finally comes, don't forget to take the baby!
Loveday Newton