STOP PRESS: Stamp Duty Land Tax (SDLT) Rates alter
The Government in their Autumn Statement have announced increases in Stamp Duty Land Tax rates.
After midnight on 3 December 2014 you will pay more in Stamp Duty Land Tax (SDLT) for residential properties costing in excess of £937,500.
SDLT rates increase from midnight as follows:
Purchase Price                Rate
Up to £125,000               Nil
£125,001 – £250,000    2%
£250,001 – £925,000    5%
£925,001 – £1.5m           10%
£1.5m and over                12%
*Please note that the rates apply to that part of the property value within the relevant band, so a property at £1m will be charged at 2% on £125,000, 5% on £675,000 and 10% on £75,000 meaning a total liability of £43,750.
The Government claims that 98% of house buyers will be better off, with the average price of a home in the UK being £275,000 (rising to £510,000 in London).
However, for those buying above the equilibrium point of £937,500 you have until midnight tonight (3 December 2014) to exchange!
If you have already exchanged but not yet completed, you will be able to choose which rate you pay at.
---
Effect on SDLT up to £937,500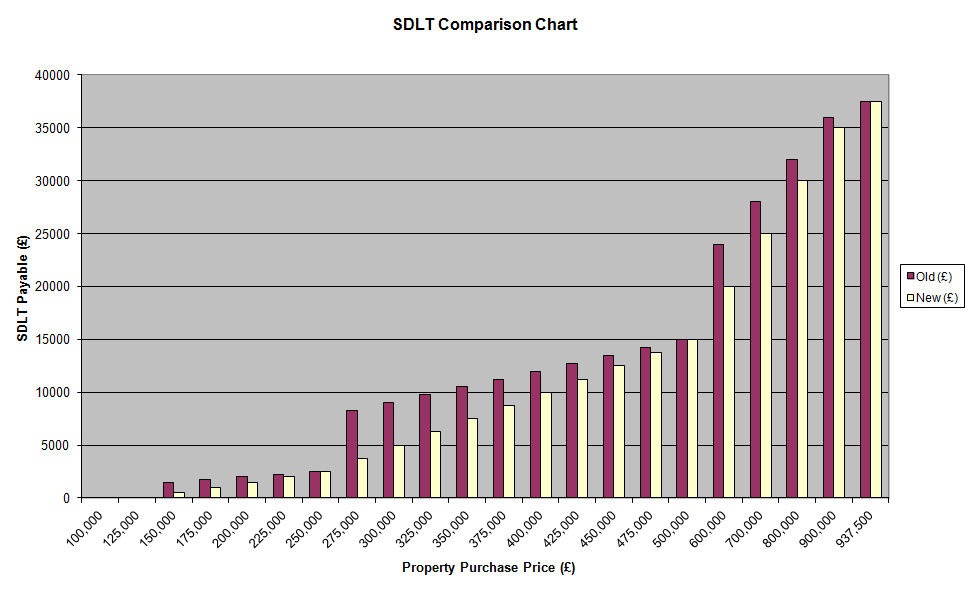 ---
Effect on SDLT over £937,500