Renting Business Premises
Jamie Coates talks about what you should look for in article that was first published in Wimbledon Time & Leisure Magazine in August 2016.
---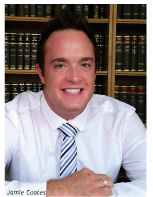 Setting up a business requires careful planning and it is usually best to focus on one aspect at a time starting with market research, creating a business plan and considering the best legal structure. Unless you are an online business you will need to select premises from which to operate. Taking a short-term lease of premises ties up less capital than purchasing a freehold property which means you can invest it within the business instead. This guide highlights the practicalities you need to consider as a tenant and the type of expert help you can get to make the renting process as trouble free as possible.
Length of lease
One of the more difficult aspects when determining how long you wish to take a lease of premises for is the unknown aspect of how well your business will work in the location you have chosen. One of the biggest overheads when starting up a business will be the cost of premises and it is for this reason you should avoid getting roped into signing a lengthy lease. Where a landlord is only willing to grant you a long lease it would be entirely appropriate for you to request an early termination provision (a break clause) part way through the lease allowing you the flexibility to terminate early or to remain in the premises should you wish to do so.
Statutory Protection for Business Tenants
As a tenant of a business premises you would no doubt have invested time and money in establishing your business and customer base from the premises. It would, therefore, be considered unfair for a landlord to simply take back the premises at the end of the term. Unless agreed otherwise business owners are automatically protected by the Landlord and Tenant Act 1954 which grants you security of tenure when the agreed term of the lease comes to an end. This means that, even though the fixed term of the lease has ended, tenants of business premises have the right to remain in occupation at the end of the contractual term of a lease on similar terms as your previous lease. It is however common for this statutory protection to be waived and many landlords may require a tenant to give this up as a condition of entering into a lease. The Act sets out strict procedures which need to be followed and makes provision for service of formal notices to remove the lease from the Act's protection. It is essential you take specialist advice (both legal and surveying) about the effect of any notice and what action should be taken to protect your position.
Service Charges
You should ensure you check how much these are and what services they cover such as cleaning, repairs, buildings insurance and heating. Service charges are an additional cost on top of rent and they should be factored in when considering the cost of leasing premises.
Repairs and Dilapidations
You will need to consider the extent of responsibility for repairs which you will have under the lease and in particular, to ensure that they are not too onerous, regard being had to the length of the lease. For example, as a tenant of a three-year lease, it would be unreasonable to expect you to be responsible for repairs to the structure of the premises as this could extend to replacement of the entire roof! For longer leases, it is not uncommon for a landlord to require you to make contributions towards the upkeep of the building, including the structure. As a tenant of a longer lease, you will take the benefit of such maintenance works which may reflect positively on your premises. You should inspect the premises, and document evidence of the condition, prior to signing the lease. In addition, to the above points, there are also other terms which need to be considered which may impact your business and finances. Please contact the Commercial Property team at Ashworths who will be more than happy to assist you with your property matters