If someone had said to me three years ago that I would have been starting my training contract at a law firm who specialise in residential conveyancing and commercial property I would have laughed. Although the laugh would have been with the best intentions it would nevertheless have been audible around most of SW19.
To say that land law is complicated is an understatement. At Law School, I sat in my classes for a year hearing phrases like covenants, easements, defective titles, deeds of variations, overriding interests, option agreements and leases. At times I felt like the tutor may as well have been speaking Latin because I didn't have a clue what was going on. Now that I am practising law I now realise that these words and phrases do have a real practical meaning when you are purchasing a property. The all have a very real effect on a piece of land and on the implications of owning a property.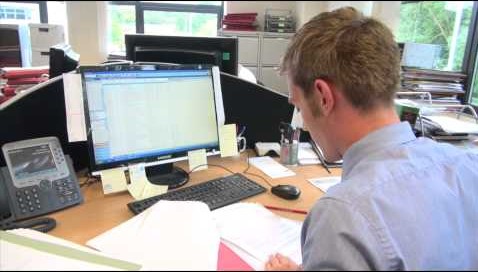 My job as a trainee means that no day is ever the same. I spend my days responding to emails and telephone calls from clients, making sure they are updated and feel confident about the transaction. I could then be doing anything from responding to enquiries from other solicitors to drafting a report, contract, lease, exclusivity agreement, sale and purchase agreement for our commercial clients or investigating the title to a property. The great aspect of this job is every transaction is different and every client's needs are different and must be met.
As a trainee, it is my job to help clients understand what those obscure Latin-like phrases mean and make sure they feel confident and comfortable when purchasing or selling their property. The joy and appreciation that a client feels when they are finally the legal owner of a property (whether it is their first home or otherwise) makes all the stress, tears and grey hairs worthwhile.
For fear of sounding like I am on some strange legal version of X-Factor, my journey to becoming a trainee solicitor started after gaining an undergraduate English Literature degree. This is a degree which I am constantly justifying to my supervisor, Loveday Newton, as she critically reviews my written work in the search for howling grammatical mistakes. After graduating I then moved on to the University of Law in 2011 where I studied the Graduate Diploma in Law before moving on to study the Legal Practice Course.
I feel I can share a secret with Time and Leisure readers – I love lists. Whether I am going out food shopping, packing my suitcase for holiday or writing out a Christmas present list my life revolves around lists. They are so useful, and when you can put a tick beside something which is complete the satisfaction is second to none. However one of the first things I am learning as a trainee solicitor is that lists do NOT work in the legal profession. I have quickly learnt that one of the key skills of being a successful trainee solicitor is to learn how to juggle, and considering I have always been unbelievably uncoordinated (I have been known to trip over in the office) I am quickly becoming a pro. We have telephone calls and emails coming in all day long and each matter is as important as the other and each client is as important as the next and so lists simply do not work, much to my disappointment.
The great thing about Ashworths is that we are a team. Every member has a part to play, which does sound corny, I know. Between the partners and solicitors here they have around 112 years of combined experience, a figure that I'm sure may depress some of them when they realise they have contributed to a large proportion of this. However, the reason that Ashworths has so many years of experience is that everyone is still passionate about the job and helping clients achieve the goals they want to achieve.
My friends ask why did you go into law and I never feel that I give a good enough answer. Was it for the money? No. Was it for the prestige? No. So why, you ask? Well, we are let out twice a year at our summer and Christmas parties and who could ask for more?
Truthfully, the legal profession was what I was drawn to and where I was meant to be. Yes, the hours are long and yes at times it can be stressful, but being able to use my knowledge and skills to help a client achieve their goals is quite a special feeling.