For a number of years, Ashworths have supported through sponsorship the highly acclaimed Wimbledon Bookfest.
Now in its 11th year, the Bookfest now welcomes in excess of 15,000 people through the doors of its two tents on Wimbledon Common for two weeks each October.  As a charity, the festival is obliged to re-invest it's ticket sale income back into the festival and also into its education work with local schools.  Central to Bookfest is the desire to bring literature to the heart of the community and the community to the heart of literature.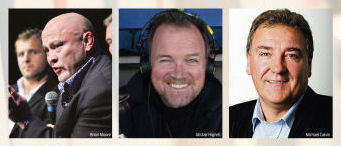 On 12 October 2017, we are sponsoring the "Brian Moore and Friends" evening at the festival.  It is not the first time that we have done so, and we really look forward to seeing Brian again together with Alastair Hignell and Michael Calvin.
It promises to be a great night, and tickets can be obtained here.